By: Isabelle Maloy
With the changing of seasons coming up, spring reminds us of how beautiful change can truly be. Flowers are blooming and new life surrounds us all. Daylight Saving means that the sun is out longer, as well as warmer temperatures lying ahead. The best time for new beginnings and new lifestyle habits is now! It is never too late to get back on track with your New Year's resolutions or pick up a new hobby. Here are a few tips to spruce up your life!
A Clean Sweep
Although your living room may look clean, don't gloss over important things in the rest of your house. The springtime is the perfect time to turn over a new leaf on keeping up with your personal tidiness. Listed below are some pointers to help you with Spring Cleaning!
Make a checklist so you don't miss anything, including:
Medicine cabinet – Remove all medications and prescriptions that are expired, as well as ones that you no longer use in the appropriate drop off box.
Refrigerator and pantry – Throw out all food that is expired.
Smoke and carbon monoxide detectors – Replace all dead batteries. Carbon monoxide is a colorless, odorless, and tasteless gas that is poisonous to humans. It is known as the "silent killer" because humans cannot tell when they are around it, but a carbon monoxide detector is a device that can alert homeowners of a leak and prevent a potentially life threatening situation.
Rooms and hallways – Replace all broken light bulbs and throw out old wires that may pose a fire hazard.
Bathroom – Consider installing grab bars in the bathtub, shower and/or near the toilet.
Make different piles: Trash, Keep, Donate
Ask your loved ones, friends, or someone you trust to help you clean.
What a Re-leaf it's Finally Spring!
Plants are one of the easiest ways to change up your living space! There are plenty of houseplants that are low-maintenance and quite easy to take care of. One of the most popular houseplants around is the Pothos Ivy. This indoor plant is especially useful because it has an air-purifying quality that can get rid of toxins in your house such as lingering formaldehyde in your carpet. These plants are great if you wish to brighten up the room without having to deal with seasonal allergies!
Gardening is something that can very well turn into a new hobby for the new season as bright flowers such as tulips stimulate a happier mood. No matter the type of space you wish to make as your new plant's home, there is something for everyone. For instance, the white blooms of the beautiful peace lily favors low light whereas the shiny leaves of the ficus plant thrives in exposure to full sun. The wide variety of colors that houseplants and flowers bring is surely something that will boost everyone's mood. Whether it be tending to a bonsai tree or taking care of a garden in your personal yard, gardening ultimately has a multitude of benefits.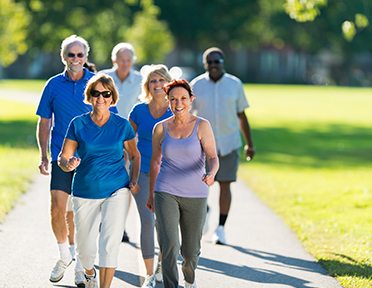 Spring Into Action
Now that it's going to be warmer outside, sign up for Spring Activities such as nature walks and bird watching to keep up with your physical activity. It is so important to stay active as we grow older because it not only keeps our body in good shape, but it also keeps our mind sharp. Work out classes and walking groups at the local park are some great outdoor activities to engage in but aquatic fitness, or water aerobics, is another wonderful alternative to staying fit! Aquatic Fitness is beneficial to those who have osteoporosis, diabetes, back problems or to anyone who wants to reduce stress and strain on the body's joints. Furthermore, tai chi is an additional activity to try out as it is a traditional, low-impact Chinese martial arts-inspired system of movement that increases balance and strength.
This website debunks six myths about exercising:
The Four Building Blocks of Fitness are Balance, Cardio, Strength and Flexibility. By building a balanced exercise plan, you will never find yourself doing the same type of activities. Your overall health will thank you! Getting fit and staying active not only adds extra years to your life, but it also truly adds life to your years. Other benefits of regularly exercising include a boost in your energy, protecting your heart and keeping your mind and memory fresh.
Enjoying the beautiful weather requires protecting your skin from potential harm caused by sun rays! When going outside, don't forget to apply sunscreen with an SPF of at least 30. Just because it isn't summertime yet doesn't mean that you shouldn't be protecting your skin. All-in-all, I hope everyone is able to enjoy the new seasons and see the bright side of things.

Here are a few of my favorite lyrics about the Spring Season, What are some of yours?
"Here comes the sun, and I say, It's all right" — The Beatles
"And I think to myself, what a wonderful world." —Louis Armstrong
Sources: https://www.sunriseseniorliving.com/blog/march-2017/5-spring-cleaning-tips-for-seniors.asp
Don't forget to check out the crossword puzzle after reading this article under Something Interactive!
https://discover65plus.com/wp-content/uploads/2019/03/logo.jpg
0
0
sabre88
https://discover65plus.com/wp-content/uploads/2019/03/logo.jpg
sabre88
2020-03-11 12:48:28
2020-05-08 15:08:10
Seasons Change and So Do You