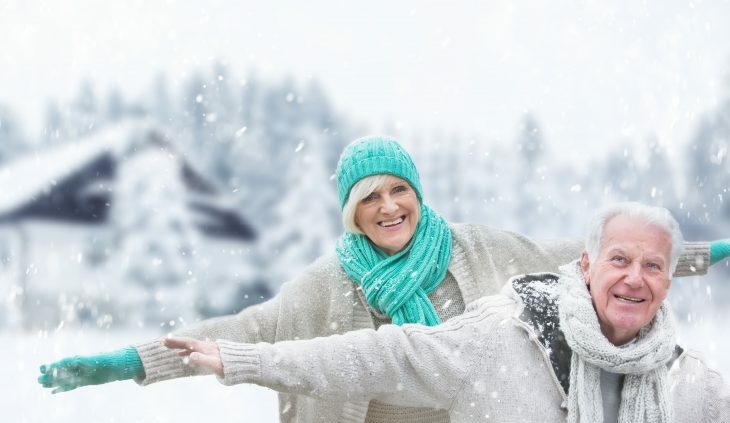 By: Gabrielle Tran
As the year comes to a close, the leaves start changing color and the temperatures start dropping. Despite the challenges that changing temperatures may pose to your normal routine, it is important to remain active. The National Institute of Aging recommends at least 30 minutes of exercise in your daily routine. Staying active can help reduce risks of developing high blood pressure, symptoms of anxiety and depression, and helps maintain healthy bones, muscles and joints.
Despite the colder temperatures, fortunately there are many enjoyable exercises that will keep you active during this time. Here are a few activities that you may enjoy during the winter season.
Same activities, different location
It is not as difficult as it may seem to enjoy the same activities that you regularly enjoy. Activities such as taking a short walk, exercising and swimming can all still be done in the winter! Want to take a walk but temperatures too cold outdoors? Take a walk indoors! Most malls open their doors approximately one hour before opening. This is a great time to head in to beat the crowds, as well as get your routine walk in. If you can't make it to the mall, another great alternative is to take a walk around your own house. Whether it be taking a walk up the stairs or a lap around your house, any activity is beneficial to getting your blood flowing through the cold months.
Wait…swimming in winter? The thought of colder weather and snow may not immediately spark a desire to get into your bathing suit. However, that doesn't mean you should dismiss this activity until summer rolls around. Swimming is one of the most physically, mental and aerobically beneficial low impact activities that anyone can enjoy. All you would have to do is find a heated indoor pool! Most big hotels, gyms and recreational centers have heated pools to use during the winter months. In addition to just swimming, a fun activity to take up would be water aerobics. Most recreational centers as well as gyms offer this class.
Layer up when heading out!
Just because temperatures are colder doesn't mean that you can only stay indoors. You can still enjoy the outdoor activities that you love. It is important to prioritize your own safety and health, however, and listen to your body and how it is responding.
When going outside, it is important to wear several layers of clothing. Starting with a layer that lies closer to the body and is made of a fabric that wicks away moisture. Wool, flannel or a thick sweatshirt material is ideal for outer layers. Make sure your clothing stays dry throughout the day, for wet fabric will do very little to keep you warm. Wear a jacket or a coat and pay attention to places such as the neck and hands, where heat escapes easily. Extremities are the first part of your body to lose blood circulation, so warm, dry, socks, boots, hats, scarves and globes are a must when venturing outside. It is also important to protect against windburn, so be sure to cover parts of the face if needed.
Furthermore, despite the lack of sun exposure during colder months does not mean there are no UV rays. The snow on the ground refracts the UV rays, thus it is important to stay protected and wear sunscreen.
Try something new!
During the colder months, there is opportunity to pick up a new hobby or even revisit an old hobby. Here are a few suggestions on some activities to try during the colder months:
Start or join a book club!
If you like to read, a book club is a great way of complimenting the feeling of reading an enjoyable book by discussing what you read with others. Not only will you be able to keep sharp, but a book club is a great way to socialize, discuss about favorite books and keep each other entertained during the cold months of winter.
Great indoor activities during those colder days spent by a warm fire include various winter crafts. Crafts and projects are a great way to keep your hands and mind busy. Crafts can range from beginner to expert level, allowing a challenge for everybody.
There are many fun winter craft ideas, but here are a few to start with:
Indoor gardening
Knitting, crocheting, or sewing
Scrapbooking memories
Baking handmade treats
Sketching or painting
The possibilities are endless with crafts! Each one of these activities are also a great way to spend time with a loved one or make awesome gifts during the holiday season!
When all else does not work out, there's always the option to travel somewhere warmer for the winter months. Travelling is one of the most therapeutic forms of recreation there is for people of all ages. Here are a few places that are popular with seniors and have great warm weather:
Spain
Kenya
Portugal
Greece
Thailand
Or if you are not keen on spending long hours on a plane, there are always domestic options such as Florida or California to name a few.
Local Activities
Ultimately, the idea is to find something you like or to try out new things until you find something that you enjoy. Bringing a friend along and sharing the experience of trying new things can open up new relationships and find activities you may never thought you would enjoy. Here are a few events going on during the upcoming winter months in New Jersey to try out:
NJPAC Local Discount Offering The Temptations & The Four Tops performance
Saturday, Oct 12, 2019, 8pm to 10pm
1 Center Street
Newark , NJ 07102
AARP NJ Franklin Township Day
Saturday, Sep 28, 2019, 12pm to 5pm
Colonial Park- Lot C
156 Mettlers Road
Somerset , NJ 08873
For a list of local book clubs to join, click here
And for more AARP hosted senior-friendly activities, click here for more events
Sources:
Exercise and Physical Activity: Getting Fit for Life. (2019). Retrieved from https://www.nia.nih.gov/health/exercise-and-physical-activity-getting-fit-life#frequently
https://discover65plus.com/wp-content/uploads/2019/09/Senior-Winter.jpeg
487
730
sabre88
https://discover65plus.com/wp-content/uploads/2019/03/logo.jpg
sabre88
2019-09-21 09:00:39
2019-10-08 14:39:49
Staying Warm in the Cold Months